Edo Glassware
(Glassware)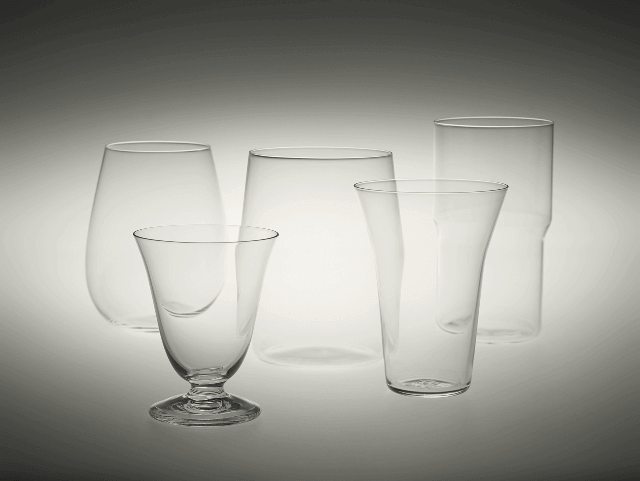 A sophisticated touch of mouth can even change the taste of water.

Edo Glassware was created as a hybrid of imported foreign technologies from China and Europe and Japanese traditional technology in the early 18th century, and reached its peak in the mid-nineteenth century as a local industry in Tokyo. While mass production prevailed in other countries, the small lot production of many products was selected by Edo Glassware flourishing in Japan, where home consumption was a trend. They can manufacture any original products precisely in line with a particular order, and reasonable price is possible even for a small lot production. This is because of their experience and achievements to manufacture products of various shapes. Recently, the number of glass factories decreased in Europe, but Tokyo, one of famous glass production centers in Japan, became one of the famous centers in the world. The tumblers and wineglasses pleasant to the taste are highly valued. Sake glasses and other glasses are drawing attentions of the world as same as Washoku, registered as UNESCO Intangible Cultural Heritage, and they have particular shapes calculated to enhance tastes and flavors. The craftsmen's skills were trained to keep a high-level quality and they are highly acclaimed as an equal match for European high-grade crystal brands.
| | |
| --- | --- |
| Main Areas of Manufacture | Taito Ward, Arakawa Ward, Kita Ward |
| Designation/ Certification Date | January 25th, 2002 (Tokyo Certification) |
| Traditionally Used Raw Materials | Silica sand, sodium carbonate, lime, potash, lead oxide, etc. |
Traditional Technologies and Techniques
Glassblowing:
Molten glass is spooled at the end of a blowpipe and air is blown in by mouth to shape the glass.
① Free-blowing:
Glass is spooled at the end of a blowpipe, air is blown into the molten glass as it is held in the air and rotated. Tweezers and other tools are used to make adjustments to the shape. The workpiece is heated in the furnace as shaping operations are repeated.
② Mold-blowing:
In addition to the steps followed in free-blowing, a wooden or metal mold is used to shape the glass.
Pressed glass:
A plunger (male section) and a mold (female section) are created. Glass is spooled at the end of a blowpipe and inserted into the mold. The plunger is used to press the glass into the mold and shape it.
History and Characteristics
1. Glass production in Japan

Glass production began in Japan during the Yayoi Period (300 BCE-300 CE). Production was discontinued for a time from the Heian Period (794-1185) to the Muromachi Period (1338-1573), before being revived following the importation of glassmaking technologies from China, Portugal and the Netherlands in the 16th and 17th centuries. Former names for glass in Japanese (currently garasu or shoshi) include ruri, a Japanese form of lapis lazuli; hari from the Chinese word boli; biidoro from the Portuguese word vidro; and giyaman from the Dutch word diamant. These names also provide evidence of the overseas links that glass production in Japan enjoys.

2. Glass production in Edo (Tokyo)

Glass production in Edo is said to have started at the beginning of the 18th century, with items such as mirrors and eyeglasses produced by the first Kagaya (Minagawa) Kyubei in the Nihonbashi-Torishiocho neighborhood. Ornamental hairpins and wind chimes were also produced by Kazusaya Tomesaburo in the Asakusa neighborhood. The names of Kagaya Kyubei and his son Kumasaki Yasutaro are included in the catalog of exhibits for Japan's First National Industrial Exhibition in 1877.

3. Cooperative association of glass producers

The Tokyo Glass [Hari] Producers Association was founded in 1879. It underwent many changes over time, leading eventually to the establishment of the TOBU Glass Industry Co-operative Association of Japan (TGIA) in 1949. The aim of TGIA is to promote friendship, information exchange, communication and coordination among members.

4. Characteristics

Modern glass production was brought to Edo after first passing through Nagasaki, Osaka and Kyoto. In addition to items such as dishware for everyday use and bottles/jars, scientific instruments such as thermometers and hydrometers were made in response to orders from the scholar and politician Sakuma Shozan (1811-1864) as well as other people. During the early Meiji Period, glassmaking developed into one of Tokyo's local industries as modern European methods were integrated and the industry grew to meet a wide range of needs.
Contact Details
| | |
| --- | --- |
| Manufacturing Area Cooperative Name | Glassware Manufacturing Association |
| Address | 4-36-6 Ryogoku, Sumida Ward, Tokyo 130-0026 |
| TEL | 03-3631-4181 |