Tokyo Tokogei
(Rattan Craft)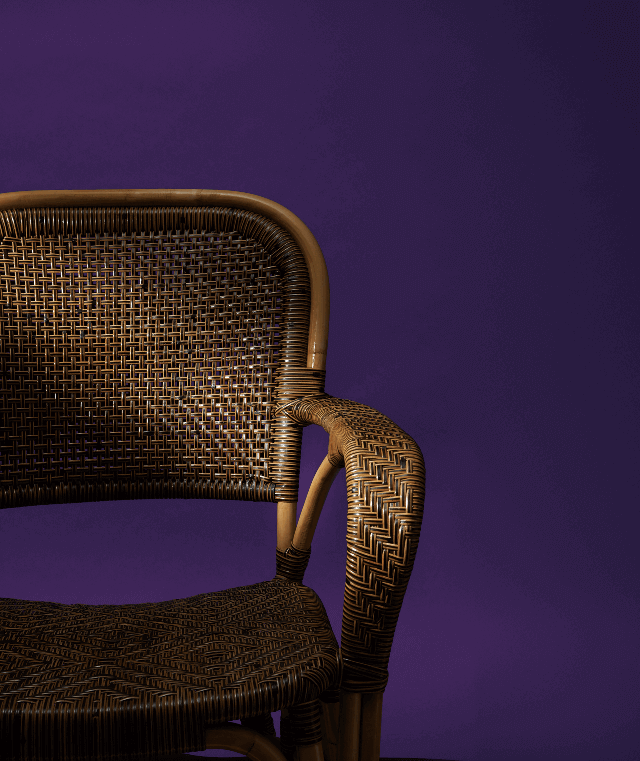 General artistic goods merging into life and body.

To (rattan) is a vegetable in the family Palmae, mainly found in Southeast Asia, and it has flexible, light but robust characteristics. This is better for rolling up work and binding work than bamboo, andhas long been used for various products. Craftsmen, who declare rattan as their first choice for Tokyo Tokogei (rattan craft), stick to Indonesian and Malaysian rattanmaterials that breathe well, havinggood durability, and generate no waste. Of course, the long-inherited skills are of a high level. All assembly work is done manually and care is taken to ensure that no nails are left exposed. Craftsmen change the braiding technique to find the best tension and hardness for specific parts, and make knots to eliminate any sliding. These skills are the result of their determination to utilize 100% of the material while pursuing functionality. Responding to the changing needs of the times, they are willing to repair old rattanproducts, in line with the concept that manual work is a work for the soul. Their stools, chairs and cool-touch beds, as well as their soft, flexible pillows are also winning the hearts of non-Japanese people. When it is used for Bonsai (potted plant) tables, many people in other countries enjoy the texture of Tokyo Tokogei as a display item.
| | |
| --- | --- |
| Main Areas of Manufacture | Adachi Ward, Taito Ward, Toshima Ward |
| Designation/ Certification Date | July 18th, 1986 (Tokyo Certification) |
| Traditionally Used Raw Materials | Rattan |
Traditional Technologies and Techniques
Both heat and steam are used to shape and bend rattan. Various types of equipment are also used.
A bark stripper is used to make incisions rather than cuts in rattan bark. The stems inside are then drawn out and cut into defined sizes.
Maki involves wrapping bark or stem rattan around structural joints in order to strengthen them.
Ami weaving using bark rattan, stem rattan and half-stem rattan is done for purposes of decoration and strengthening in accordance with product uses.
History and Characteristics
"Rattan" describes a family of palm plants that mainly grow in South East Asia. While being lightweight, strong and offering abundant elasticity, rattan is also said to possess the longest stems of any plant in the world.
Rattan stems are jointed like bamboo. Unlike bamboo, however, they are fibrous rather than being hollow. The diameter of rattan stems ranges from around 2mm to 50mm.
Rattan possesses a hardened outer sheath with long slender leaves. Thorns are also present in places. The tensile strength of rattan is worth special mention, the stems literally being strong enough to sustain the weight of King Kong.
Bamboo is perhaps the most familiar natural material that can be "woven" or "braided" (as part of traditional crafts), however, it does not perform very well when "wrapped" or "tied." By contrast, wrapping and tying are possible when using rattan.
Rattan also offers superior pliability, it being able to replace bamboo because bamboo cannot be bent or twisted. Rattan can also be "wrapped" and "sewn."
Rattan is also sometimes used for the edge-wrapping of bamboo baskets.
In the Middle Ages, rattan was used in a range of products. It was used by the military classes in rattan-twined bows and on weapon shafts. It was also used for writing brushes, whistles and flutes.
In the Edo Period (1603-1868), rattan was used in wickerwork baskets, and as a surface material for pillows and sandals. The Meiji Era (1868-1912) saw the appearance of rattan prams and chairs. In the Taisho Era (1912-1926), attention was paid to the sculpting qualities of rattan, while from the early Showa Era (1926-1989), rattan began to be used for household furniture and room accessories. Such developments led to an expanding scope of usage over time.
In modern times, products manufactured from rattan possess an accessible familiarity. In the heat and humidity of the Japanese summer, due to how it feels, in addition to furniture in hotel lobbies and restaurants, rattan is used in a wide variety of locations including private households.
Contact Details
Manufacturing Area Cooperative Name
Rattan Manufacturing Cooperative Association
Address
c/o Konishi Trading Co. Ltd., 1-30-6
Yanagibashi, Taito Ward, Tokyo 111-0052
TEL
03-3862-3101