Edo Wazao
(Bamboo Fishing Rods)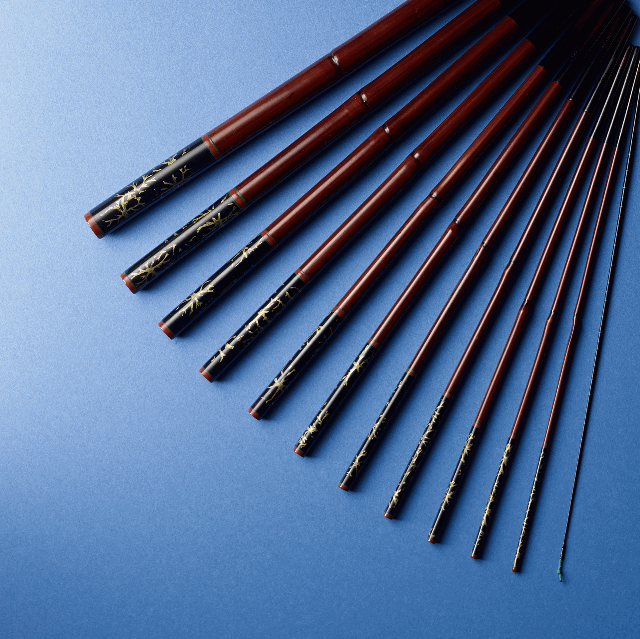 Edo townspeople sought out an Iki spirit, even for in fishing gear.

The Japanese predilection for eating fresh fish has always made fishing a popular public activity, with the result that the craft of designing and making fishing rods developed to a high level. Specifically, in the Tokyo area, which borders the Pacific Ocean and is traversed by many rivers, a wider variety of fishing rods have been manufactured than in other areas. It is no exaggeration to say that Edo Wazao (bamboo fishing rods), including Ishidai-zao (rod for parrot fish), Kurodai-zao (rod for black porgy), and Yamame-zao (rod for landlocked salmon), come in as many types as there are kinds of fish. Rods are primarily tailor-made with importance placed on adjusting the processes according to the size of and required force for target fish types. A rod is manufactured using the following processes, which determine the quality: the Kiri-kumi (cutting and combining) processes where bamboo is dried for at least three years before cutting in consideration of the different quality of each part, and the Hi-ire (burning) process to make the bamboo stronger. Being made of natural material, the finished products become more serviceable with use. Fishermen are also attracted by the dual values of practicability and artistic quality arising out of Urushi (Japanese lacquer) decorations and metal carvings on the handles. Not intended to compete with carbon fiber rods, these products realize agreeable fishing through their carefully calculated flexibility to absorb the fighting force of the fish. That is why the Edo Wazao appeals to fishermen around the world.
Main Areas of Manufacture
Taito Ward, Katsushika Ward, Arakawa Ward
Designation/ Certification Date
November 1st, 1984 (Tokyo Certification)
May 20th, 1991 (National Certification)
Traditionally Used Raw Materials
The twine used at the mouth of spigot joints is silk thread.
Natural lacquer is used for lacquering.
Traditional Technologies and Techniques
The cutting of bamboo staves and the constructing of Edo Wazao (bamboo fishing rods) occurs in accordance with the type of rod the craftsman has in mind. After issues such as rod length and format have been settled, the craftsman selects the appropriate bamboo and staves are cut from it.
The process of bamboo heating (straightening) involves passing the material through a flame, removing oil from the cane, and making it pliant and straight.
Fitting together the sections of a rod created from bamboo staves involves finishing the spigot joints to ensure there is no play in them. There are two types of joints used in Wazao, ferrule joints and telescopic joints.
Urushi (lacquering) is done using refined lacquer.
History and Characteristics
When it comes to traditional Japanese bamboo fishing rods, there are those made from a single piece of bamboo (called nobezao in Japanese), and those constructed by connecting together by spigot joints sections originating from numerous bamboo staves (called tsugizao in Japanese). According to oral history, it is said that "at the end of the Heian Period, in the fourth year of the Jisho Era (1180), tsugizao were developed in Kyoto". However, there is no documentary evidence to support this claim.
Then again, with regard to Kyoto being the supposed birthplace of tsugizao, in a haiku poetry commentary published in the early Edo Period in the third year of the Enpo Era (1675), there is reference to a bamboo fishing rod called an irekozao.
Meanwhile, the birth of the tsugizao in Edo is believed to have occurred during the Kyoho Era (1718-1735) somewhat later than in Kyoto. It is often said that a shop called "Taichiyatosaku" (established in the eighth year of the Tenmei Era (1788)), made significant contributions to the techniques employed when manufacturing bamboo fishing rods.
As an aside, if the backgrounds of current Edo Wazao (bamboo fishing rod) craftsmen are investigated, most can trace their roots back to the first generation of "Taichiyatosaku" craftsmen. In terms of what Edo Wazao (bamboo fishing rods) actually are, the term describes a single fishing rod constructed from a number of staves of different bamboo varieties (golden bamboo, arrow bamboo, black bamboo, timber bamboo). This is what is called a tsugizao.
The making of Edo Wazao commences with the selection of bamboo staves. Craftsmen visit forests themselves and scrutinize each bamboo pole individually. It is said that maybe among 100 bamboo poles, there are perhaps only one or two specimens whose good quality makes them suitable for Edo Wazao. After the bamboo poles have been selected, they are cut down and allowed to dry out naturally for approximately one month. In order to bring out the qualities of a single rod constructed from golden bamboo, arrow bamboo, black bamboo, and timber bamboo staves; having a kirikumi (a plan for cutting and combining the staves) is perhaps the most important factor. Bamboo selections are made in order to create a rod that is easy to use, it being optimized to the type of fish to be caught, the style of fishing, the fishing location, and the fishing conditions.
Contact Details
| | |
| --- | --- |
| Manufacturing Area Cooperative Name | Edo Wazao Manufacturing Cooperative Association |
| Address | c/o Saochu, 5-11-14 Minamisenju, Arakawa Ward, Tokyo 116-0003 |
| TEL | 03-3803-1893 |