Edo Bekko
(Tortoiseshell Products)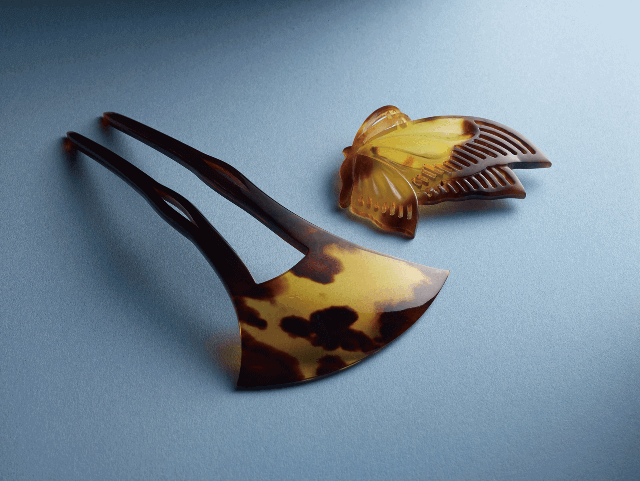 Comfortably fit for your outline.

Edo Bekko (tortoiseshell product) is made from the shell of Taimai (hawksbill turtle), a kind of sea turtle. Transactions of this shell is regulated under the Convention on International Trade in Endangered Species of Wild Fauna and Flora (Washington Convention), but domestic sale is not prohibited according to the Act on Conservation of Endangered Species of Wild Fauna and Flora and other acts. Taimai is found mainly in the southeastern seas and Indian Ocean, characterized by their transparent yellow base and dark brown spots. Compared to other kinds of turtles, they have beautiful patterns and the shell is easy to work by heat. That is why they have been used for hairdressing implements including Kanzashi (ornamental hairpins) and Kogai hairpins. The first shogun, Tokugawa Ieyasu of the Edo Shogunate, was a regular user of Bekko spectacle frames. Craftsmen's skills are represented by the bonding process. No two combinations of patterned and base shell sections are the same, each one expressing the individuality of the person who made it. A pair of spectacles is soft to the skin and has a property of softness, fitting to the face outline. Bekko accessories, including bracelets and rings, are safe for those who are allergic to metals.
* Tortoiseshell products are prohibited in principle from taking out of Japan.
| | |
| --- | --- |
| Main Areas of Manufacture | Bunkyo Ward, Taito Ward, Sumida Ward |
| Designation/ Certification Date | February 4th, 1982 (Tokyo Certification) |
| Traditionally Used Raw Materials | The shell of the Hawksbill Turtle. |
Traditional Technologies and Techniques
The surface of tortoiseshell used to make Edo Bekko products is prepared by hand. Smoothing is conducted utilizing tools such as rasps, knives and files.
Tortoiseshell pieces are joined together using joint plates, metal plates, pincers and presses, etc. They fuse together with the application of heat.
Product shaping is done using wire saws, knives, files and scouring rushes, etc.
History and Characteristics
The history of working with tortoiseshell is extremely long. Among the treasures of Todai-ji Temple's Shoso-in treasure house (built around the year 756), artifacts such as staffs and Biwa (Japanese lutes) have been identified as having tortoiseshell decorations. Edo Bekko started to be produced at around the time the Shogunate was established in the city of Edo (modern Tokyo). Shell working techniques were at that time very simple to the extent that tortoiseshell tended to be used as is. During the Genroku Era in Edo (1688-1704), techniques for fusing tortoiseshell pieces together arrived in the city, and this made it possible for more complex products to be produced.
For Edo Bekko, of the many different species of turtle, Hawksbill shell has been traditionally used; it being an appropriate species for producing both fashion accessories and ornaments due to the quality of the shell. At 50 to 60 years of age, Hawksbill specimens living near the equator grow to some 180 cm long and weigh around 200 kg. Talking about the shell (the carapace) of the Hawksbill, it always offers an area comprised of 13 black sections (scutes). The transparent area of the carapace other than these scutes only amounts to approximately 10% of the total. Thus, such material is very much prized.
The Hawksbill Turtle is now a protected species under the Convention on International Trade in Endangered Species of Wild Fauna and Flora (The Washington Convention). Thus, there are fears regarding being able to obtain good quality, natural Hawksbill shell. However, these days there are hopes with regard to the production of Hawksbill Turtle shell from turtles grown in captivity in equatorial countries such as Indonesia and Cuba.
With respect to the manufacture of Edo Bekko products, the process commences with decisions concerning the taking of base material from a carapace, the shape of a product and its position within a scute. Two or three similar pieces are cut and fused together through a combination of water and heat. It is years of experience and a craftsman's mastery in controlling the moistening, temperature and pressure on materials which decide whether or not the fusing of pieces together is successful. After this process is completed, tortoiseshell is smoothed down using files and scouring rushes.
Accessories made from natural tortoiseshell such as necklaces, broaches and eye-glass frames, are loved by many people due to their deep sense of gloss and nice texture.
Contact Details
| | |
| --- | --- |
| Manufacturing Area Cooperative Name | Tokyo Bekko (Tortoiseshell) Cooperative Association |
| Address | 2-27-7 Higashinihonbashi, Chuo Ward, Tokyo 103-0004 (408, Tokyo Soshou Kaikan) |
| TEL | 03-5607-0888 |
| | |
| --- | --- |
| Manufacturing Area Cooperative Name | Tokyo Bekko Crafts Industry Association |
| Address | 3-22-8 Yanaka, Taito Ward, Tokyo 110-0001 |
| TEL | 03-3828-9870 |
| | |
| --- | --- |
| Manufacturing Area Cooperative Name | Higashi-Nihon Bekko Industrial Association |
| Address | 2-27-7 Higashinihonbashi, Chuo Ward, Tokyo 103-0004 (408, Tokyo Soshou Kaikan) |
| TEL | 03-5607-0888 |
| | |
| --- | --- |
| Manufacturing Area Cooperative Name | Tokyo Soshohin Cooperative Association Group 4 |
| Address | 3-21-2 Asakusabashi, Taito Ward, Tokyo 111-0053 |
| TEL | 03-3862-4741 |