Tokyo Tegaki Yuzen
(Hand-Painted Kimono)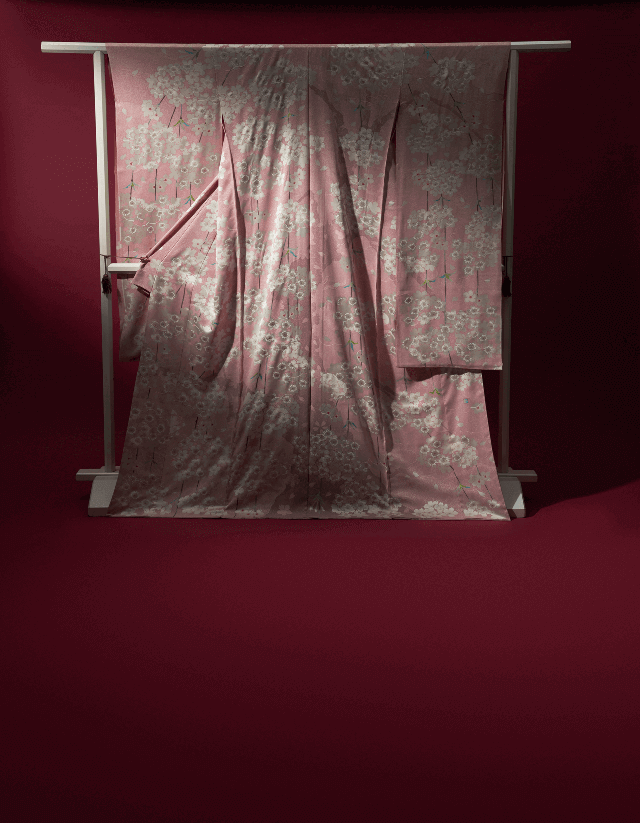 An answer from Edo's "Iki (wits) Eto Kyoto's preference for splendor.

Yuzen (hand-painted kimono) is said to have been established by painting masters of Kyoto in the 17th century. After some of painters and dye masters moved to Edo, Tokyo TegakiYuzen began to develop as one of three major Yuzen traditions of Japan, the others being KyoYuzen (Kyoto), KagaYuzen (Kaga feudal domain). Tokyo TegakiYuzen differs from the other Yuzen traditions which adopt division of labor, in that a single craftsman is responsible for the whole process. He or she is involved in the processes of handdrawn design using no paper pattern, coloring, and dyeing, in which his/her personality is prominent. A craftsman takes a long time over motif choice, designing and sketching. Original designs, products of the craftsman's imagination that may include buildings on a street, animals, and even the cosmos, can clearly distinguish this work from other Yuzen traditions that give importance to beauty of style. The limited color range, influenced by sumptuary laws, realizes the wits of Edo culture with simple grey and blue tones. As a result, Tokyo TegakiYuzen has been merged into the modern life of Tokyo, rather than in tradition-bound Kyoto, and it harmonizes with the contemporary age as a young Kimono tradition.
Main Areas of Manufacture
Shinjuku Ward, Nerima Ward, Arakawa Ward
Designation/ Certification Date
March 3rd, 1980 (National Certification)
December 24th, 1982 (Tokyo Certification)
Traditionally Used Raw Materials
Woven silk textiles
Traditional Technologies and Techniques
For Tokyo Tegaki Yuzen (hand-painted kimono), preliminary designs are sketched on textiles using an extract from spiderwort (a plant), etc.
Resist dyeing is done by applying either dye-resistant pastes to textiles or by covering areas with wax.
Various types of brush are used for coloring and the painting of designs.
Crests are applied either by brush or by using paper cut-out stencils.
Embroidery is undertaken by hand.
History and Characteristics
The origins of yuzen dyeing are said to lay in the Edo Period's Jokyo Era (1684-1687) during which there was an artist in Kyoto whose real name was Hioki Kiyochika (1650-1736). This person nevertheless used Miyazaki Yuzensai as his professional name.
In "The Life of an Amorous Man," a well-known work of fiction of the Edo Period by Ihara Saikaku (1642-1693), there is a woodblock print called "The Twenty Dyed Fan Yuzen," this title hints at the fact that Miyazaki Yuzensai was also known to be a painter of fans. One day, due to a request received from a drapery, Miyazaki painted a design that featured a pattern of family crests, and it subsequently became wildly popular. The pattern represented a departure from dyed goods up until then, with its popularity said to have stemmed from its use of color. Ogata Korin (1658-1716), one of the most well-known artists in Japanese history also tried his hand at yuzen techniques, and examples of his work remain with us today.
When Tokugawa Ieyasu (1543-1616) established the Edo Shogunate (1603-1868), many dyers and artists employed by daimyo (feudal lords) relocated from Kyoto to Edo. Various technologies and techniques were patronized, and this resulted in the creation of a wide variety of both woven textiles and dyed goods. That water was an integral part of dyeing processes also proved a very important factor. Thus, many dyers ended up living along the banks of the Kanda River.
A drapery called "Echigoya" opened in Nihonbashi (now known as the Mitsukoshi Department Store) in the first year of the Enpo Era (1673). It established a dye works further up the Kanda River around Tokyo Yamanote (close to modern Takadanobaba in Shinjuku Ward). Even today, the largest number of dye works in Tokyo is found in Shinjuku. Concerning Tokyo Tegaki Yuzen (hand-painted kimono), from development of conceptualizations, the sketching of preliminary designs, and until project completion, craftspeople carry out tasks as a continuous operation, each working individually. A feature of such kimono is that even within garments of a single color, there is a sense of beauty and elegance.
Contact Details
| | |
| --- | --- |
| Manufacturing Area Cooperative Name | Tokyo Kogei Senshoku Cooperative Association |
| Address | 3-21-6 Nakaochiai, Shinjuku Ward Tokyo 161-0032 |
| TEL | 03-3953-8843 |