[Announcements] In view of the outbreak of covid-19 and to prevent the spread of the infection, the meeting will be cancelled on and after January 21, 2022 (Friday). (January 19, 2022)
The Road from Edo Period
The 65th Tokyo Traditional Crafts Fair
The Road from Edo Period
The 65th Tokyo Traditional Crafts Fair
Tokyo Metropolitan Government (TMG) will be hosted the 65th Tokyo Traditional Crafts Fair at Takashimaya Shinjuku Store. This fair will features crafts displays, sales.
Please take this opportunity to touch the traditional crafts of Tokyo, feeling it closely to the daily use, and to see various techniques which have been inherited from generation to generation by craftsmen.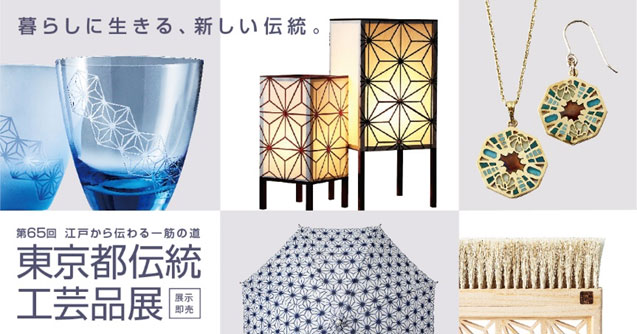 Event Details
Date
From January 19 (Wednesday) to January 24 (Monday), 2022
Time

| | |
| --- | --- |
| 19th and 23th | 10:30 a.m. to 7:30 p.m. |
| 24th | 10:30 a.m. to 6:00 p.m. |

Location
Takashimaya Shinjuku Store 11F
5-24-2, Sendagaya, Shibuya-ku, Tokyo
※free entrance
Contents
Works of Tokyo craftsmen exhibited and sold
Lottery drawing

Sponsor
Tokyo Metropolitan Government
Exhibition and Sale (42 crafts)
Traditional Crafts of Tokyo
1
MurayamaOshima Tsumugi
(Textured Silk Pongee)
16
Edo Sashimono
(wood Joinery)
31
Edo Fude
(Handmade Callgraphy Brushes)
2
Tokyo Some-Komon
(Tokyo Fine-Pattered Dyeing)
17
Edo Sudare
(Edo-Style Blinds)
32
Tokyo Mujizome
(Plain Dyeing)
3
Honba Kihachijo
(Silk Fabrics from Hachijo Island)
18
Edo Sarasa
(Printed Silk Calico)
33
Tokyo Koto
(Theteen-Stringed Musical Instrument)
4
Edo Kimekomi Ningyo
(Posted Material Doll)
19
Tokyo Honzome Yukata-Tenugui
(Indigo-Dyed Summer Kimono-Tenugui)
34
Edo Karakami
(Hand-Made Pattered Paper for Interiors)
5
Tokyo Ginki
(Silverware)
20
Edo Wazao
(Bamboo Fishing Rods)
35
Edo Moku-Hanga
(Woodblock Prints)
6
Tokyo Tegaki Yuzen
(Hand-Printed Kimono)
21
Edo Ishogi Ningyo
(Custumed Dolls)
36
Tokyo Shippo
(Cloisonne Enamelware)
7
Tama Ori
(Tama Woven Fabrics)
22
Edo Oshie Hagoita
(Padded Collage Paddles)
37
Tokyo Teue Brush
(Handmade Brushes)
8
Tokyo Kumihimo
(Braided Cords)
23
Edo Katchu
(Warrior Armor)
38
Edo Glassware
(Glasware)
9
Edo Shikki
(Lacqure Ware)
24
Tokyo Tokogei
(Rattan Craft)
39
Edo Tegaki Chochin
(Hand-Painted Paper Lanterns)
10
Edo Bekko
(Tortoiseshell Products)
25
Edo Shishu
(Embroidery)
40
Tokyo Yogasa
(Tokyo Umberlla)
11
Edo-Bake
(Edo Brushes)
26
Edo Moku-Chokoku
(Wood Sculptures)
Others
12
Tokyo Butsudan
(Buddhist Altars)
27
Tokyo Chokin
(Metal Chasing)
41
Oke
(Tub)
13
Edo tsumami-Kanzashi
(Ornamental Hairpins)
28
Tokyo Uchihamono
(Hand-Forged Blades)
42
Brush
(Brushes)
14
Tokyo Gakubuchi
(Picture Frames)
29
Edo Hyogu
(Scroll Mountings)
15
Edo Zoge
(Ivory Carvings)
30
Tokyo Shamisen
(Three-Stringed Musical Instrument)
Lottery Drawing
During this period, for every purchase of 10,000 yen or more including tax (receipts can be combined) at the Tokyo Traditional Crafts Exhibition on the 11th floor, you will be entered into a drawing to win a Tokyo Traditional Crafts product.
1st prize Edo Glassware "Mt. Fuji on the rocks glass"
 
2nd prize Tokyo Shippo "Sakura Fuji" or
Tokyo Butsudan "Ebony hexagonal chopsticks" or
Edo Karakami "Fan and postcard set"
 
3rd prize Edo Hyogu "marionette screen" or
Tokyo Honzome Yukata-Tenugui "Tenugui (Checkered pattern)" or "Senri no Toranoko" or
Tokyo Mujizome "Tie-dye tenugui"
 
Participation prize "bookmark"
 
* Including consumption tax. Participation will be limited to a maximum of \200,000 (20 drawings).